About Me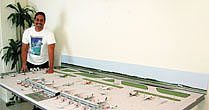 Thank you for taking the time to stop by and visit this website. My name is Ovidio DeJesús, and I have been collecting die cast airplanes for several years now. As my collection grew, I started looking for ways to display my planes, but could not find anything I liked. All I could find were "pieces" of airports, at very high prices. So, like many of you, I decided to start making my own airports (check out my "airport journey" at www.4by8airports.com). As the years went by, I got better and better, until I was able to do the designs on the computer.
This website is the culmination of all those years of designing my own airports. What I want to do is to share my designs with other collectors, so that we can all enjoy our airplanes. I have tried very hard to make these airports as detailed, realistic and complete as possible. There is some "assembly required", but that's half the fun. I am always open to suggestion for future designs, so if you have any ideas you want to share, please send me a note by clicking here.
Thank you for your support, and happy collecting!
Ovidio DeJesús
Designer